Garage Door Opener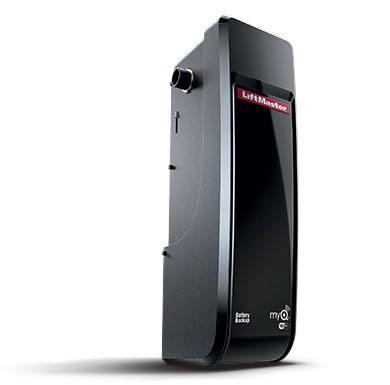 LiftMaster Model 8500WL
Drive: Direct
Force: 12V
Motor warranty: Lifetime
Parts warranty: 5 years
DC Battery Backup Wall Mount Wi-Fi® Garage Door Opener
Smart
Space-saving Design – opens up the ceiling.
Built-in Wi-Fi for the easiest way to connect the garage.
MyQ Remote LED light – provides bright, maintenance-free illumination.
Included Automatic Garage Door Lock – makes the garage door virtually impenetrable.
MyQ Mobile App – lets users receive alerts and control the opener from anywhere.
Quiet and Reliable
Wall-Mount Design and Quiet DC Motor – eliminate noise and vibrations through the ceiling and provide smooth operation.
Heavy-Lifting Power – operates doors up to 850 lbs.
Integrated Battery Backup – ensures garage access even when the power goes out.
Warranty – Lifetime motor, five (5) years parts, one (1) year battery and accessories.
Secure
Timer-to-close – automatically closes the door after a preset amount of time.
Security+ 2.0® – sends a new code with every remote click.
Motion Detector – automatically turns on the light.
The Protector System® – auto-reverses the door if there is an obstruction.